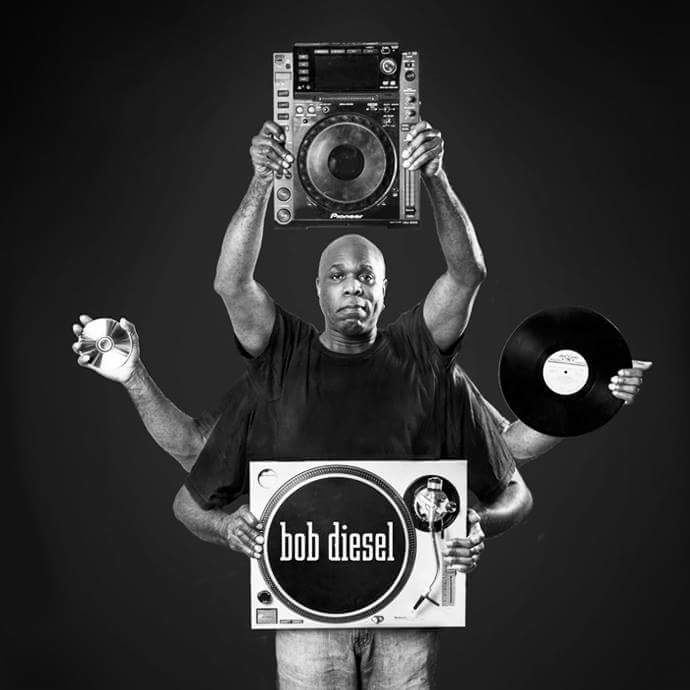 Bob Diesel is a New York native transplanted to Massachusetts in 1987. He started dj'ing at the early age of 13 playing along with his brother at lodge functions, weddings and private parties. His musical knowledge came from his parents, children of the jazz revolution in Harlem New York. From their eclectic taste he had experienced a wide range of music, Classical, British and American Rock, Country, Latin, Blues, R&B, and Soul Music sounds.
Bob Diesel learned to play the drums at nine under jazz drummers Keno Duke and Charlie Persip. At the age of eleven he had an opportunity to study percussion with Latin jazz greats Mongo Santamaria and Tito Puente at a percussion clinic all at the Henry Street Settlement, a Community Center in the Lower East Side of Manhattan. He also took advantage of the many other programs offered at the center, but his interest was in the arts. Bob studied art and various different dance forms such as Ballet, Jazz and Tap, but he became very curious when he saw dj's playing records in the nearby park. He found out when the next "jam" would be and would try to stay as long as he could to try to capture what was taking place.
In junior high school Bob got a job as a delivery boy in a local grocery store in the East Village and saved his earnings and bought his first records and his dj equipment, shortly after he landed his first professional gig at the Empire Rollerdrome in Brooklyn, New York. His greatest influence as a dj was the world famous New York Radio DJ/Personality for WBLS 107.5 F.M. "The Chief Rocker" Frankie Crocker. A very talented and knowledgeable Program Director that was one of the greatest innovators in Urban Music Radio that was instrumental in jump starting and launching many groups and solo artists in the record industry.
Before moving to Long Island Bob Diesel got a chance to learn music production at Shakedown Sound with Arthur Baker in Manhattan, then later on to play at the 2001 Disco in Long Island N.Y. at the age of sixteen playing for Thursday teen night and filling in from time to time for the Friday and Saturday nights. He then joined his high school radio station and hosted his own shows and got the jump start he was looking for. He joined O.P.E.C. Record pool in Long Island and shortly after its demise he later auditioned to become a member of the most famous New York record pool I.D.R.C / R.B.P.C, headed by Eddie Rivera, the executive director. He told Bob "You're very young and got a good break in the clubs and you might have talent but I want to hear Bob's music, not the way you would have to play at the club, but play that same music and tell me a story with your music". So Bob played for Eddie and some of the DJ's at the pool and in two hours he was a member at the age of sixteen. He learned all he could from other club DJ's and honed his skill and was an invited guest dj at many venues and benefits in the New York and Tri-State area.
Bob also had a chance to do college radio and worked doing editing and special mixes for WRKS 98.7 KISS F.M. in New York. When Bob moved to Massachusetts he met up with many legendary DJ's in Boston such as Alex Yunis, Timmy Allen, Jide Max, Anastasie, Steve & Shaun Anderson, "Captain" Wendell Edmonds, Maurice Wilkey, Eddie Cue, DJ Bruno, Eddie K, Kevin Jones, Master Jay, Chris Di Orio and Cosmo Wyatt who were very instrumental in getting Bob started and continuing successful career in Boston music market.
To his credit, Bob has performed in Canada, Mexico and overseas in the Far East and Europe. He is a member of the group "Vinylmaniacs", a trio of veteran radio and nightclub DJ's that feature Timmy Allen and Maurice "Mojavi" Wilkey that play un-scripted and simultaneously Deep House Music, Rare Grooves and Percussion tracks with (3) pairs of turntables, (3) effects processors and (3) mixers. He is also a member of the Boston Housemusic Coalition. To his credit, Bob has performed in Canada, Mexico and overseas in the Far East and Europe. Bob is also a proud member of the Boston Housemusic Coalition also has a Boston based bi-weekly radio program "Progressive Black" on WZBC FM 90.3 Newton / Boston, MA with fellow Boston DJ and Boston Housemusic Coalition member Keith Donaldson and Byoosik.